Meet the children (Last Names A-G)
---
Read through the stories and if you'd like to sponsor a child, use the easy 2 step process. Simply click on the Sponsor Me button to fill out your contact information and then use the donate button to complete your sponsorship. If you have questions, contact us. Thank you!
Rose Danica Cayetano
DOB: June 02, 2006 - Grade 8
---
My name is Rose Danica Cayetario. I am in grade 8 now. We live in a small nipa hut owned by someone. In spite of the hardship in life, my mother is very persuasive in raising us cos my father drinks a lot of the time and don't have a regular job.
I was so happy when I learned about the MFHM program cos it helps me to go to school without my mother worrying my lunch and transportation every day.
Kim William Catapang
DOB: June 18, 2003 - Grade 11
---
I am greeting you in the name of Jesus. My name is William Catapay and I'm already in grade 11. In spite of hardship in life I keep pursuing my dreams through God's help. Thanks to MFHM help cos I'm getting closer in reaching my dreams which is to finish my studies.
Thank you for the lunch that your providing us and the transportation everyday going back and forth from home to school. May God bless you always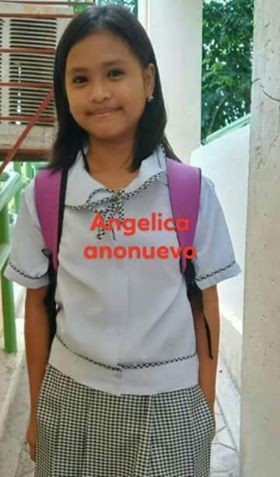 Angelica Anonuevo
DOB: Aug. 25, 2007 - Grade 7
---
We are 2 siblings in our family. My father is jobless because he is already paralyzed after he fell from the building where he was working. Me and my other sibling just walk going to school every day. My mother works in a ranch as a lime picker but it's only a seasonal job. If she didn't work that day we won't have food to bring to school, the next morning so we just skip school on that day.
Mary Rose Cayetano
DOB: Oct. 09, 2004 - Grade 6
---
We are 6 siblings. My mother has a goiter and my father doesn't have permanent job. He is lucky if they will call him to pick limes in the ranch or work in the construction. The earnings of my father is not even enough for our food. I just keep pushing myself to go to school for 5 yrs without any allowance, uniform and walking every day. What makes me worry is when I reach high school I don't know if I can still go to school because it will take 2 hrs. of walking from our place going to school but suddenly it makes my heart so alive to hear that we will get help from some people who wanted to support us to go to school.
Marivic Gado
DOB: Nov. 20, 1999 Grade 11
---
We are 4 siblings in the family. Even though we are very poor, we try to go to school without allowance. We just walk 3 hrs. back and forth from our home to school. We don't mind walking long miles but we wanted to have some food to eat on our lunch time at school. There are times that I missed school because we don't have any food to take with us to school. My mother works as a maid and my father is jobless. Usually I am the one who takes care of my younger siblings when my mother goes to work. By the way, I sing in our church every third wk of the month.
God is soo good! He always heard our prayers!
Cezar Jevener
DOB: Dec. 04, 2005 Grade 6
---
My father is a born again Christian since he was young. All of us go to church every Sunday. My mother is from a tribe of Igorot that's why she doesn't mingle with other people that much and this is one of the reason why I get bullied at school because of my mother coming from a tribe but I ignore them. What is more important to me is that my family are intact. I just also walk going to school with my old flip flop. My father works in a vulcanizing shop but he gets paid by commission only that's why he buy me a flip flop once a year only.
I am so thankful to God for the help from other people. To God be the glory!!!!
Jerlie C. Dalisay
DOB: July 27, 1999
Graduated and has a job
---
We are 6 kids in our family. I am grateful serving God because He is my inspiration! I know that we are don't have anything in life cos we are just poor but I am doing my best to finish my studies cos I wanted to become a nurse someday. I walk everyday going to school and coming back home. Most of the time I don't have food to eat at lunch time in school but God always make a way for me to eat in our school from other people.
I am one of those kids that Brother Terry took a picture, the last time he visited the Philippines. We are so thankful to him for not giving up to find a sponsor for us.
Marian Lucas Batoy
DOB: Oct. 30, 2006 - Grade 7
---
Hi! My name is Marian Batoy and I'm in grade 7 now. We are 4 children in the family and I am the eldest. My father doesn't have a permanent job. He gets hired as a lemon picker. Sometimes twice a week but there are times none in a week.
My mother is left in the house to take care of my other siblings. During the days when we don't have class in school, my mother would cut grass in the vegetable farm and I am the one who is left at home to take care of my other siblings so my mother can help also my father in earning some money.
When I was chosen to get a sponsor in going to school for free lunch and transportation, the more I study hard to show the MFHM program how much I appreciate their help.
You are my inspiration and living in hardship life are the reason why I graduated Valedictorian on April of this year 2019. I am an honor student from grade 1-6. Thank you Lord for your guidance and MFHM thru Brother Terry and Rochelle Hucks.
Jayson Falsario
DOB: April 29, 2007
---
I am 9-year-old Christian boy and from a big family that consists of 12 siblings. Our parents don't have a permanent job. Most of the time we slept at night with an empty stomach. In the past few years, our parents, told us that some of our brothers and sisters have to stop going to school. Only the one who is close in graduating is going to school and those who stop will enroll again after a year or so.
When I grow up, I want to become a soldier to help my fellow countrymen and my family. I wanted to lift the name of God and glorify Him for his goodness!
April C. Dalisay
DOB: April 28, 2007 - Grade 4
---
My parents can't afford to send us to school because it's not even enough for our food so every day I have to walk long miles from home to school, back and forth. There are times I am barefooted only because we don't have the money to buy flip flop but it's okay. I wanted to finish my studies so I can give my family a nice life someday. I am so grateful for those people who support Brother Terry to help us here and most of all to our dear God!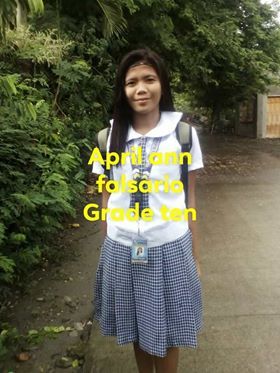 April Ann Falsario
DOB: April 13, 2002 - Grade 7
---
We are 12 siblings in our family consists of 5 boys and 7 girls. My father doesn't have a permanent job and already crippled from the motorcycle accident. While my mother is jobless. There are times that we just go to sleep without eating supper cos there is no food to eat. We go to school without lunch to take with us but I still keep going cos we know our perseverance will pay off someday and that God always answer prayers to those who call Him!
Now we are so glad to hear that some people wanted to help us to finish our studies. Thank you to all of you!
Guialyn Gaca
DOB: June 25, 2001 - Grade 10
---
We are 6 kids in the family. Even though we are just poor, I can still able to go to school. I don't mind walking long miles going to school, sometimes no lunch to take with me and no uniform. I have a free tuition fee from cleaning the bathrooms in our school. I am not ashamed of it. My teachers understand my situation. I am eager to finish my studies cos I wanted to become a teacher someday. I thank God for answering my prayers. Now I don't have to worry about my lunch cos some good hearted people already provided it to us including free transportation back and forth to school, new uniforms and school supplies. May God bless you more!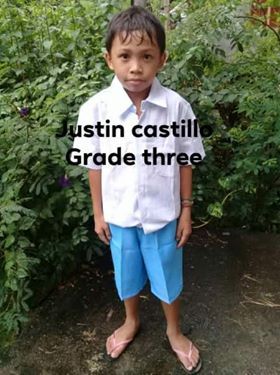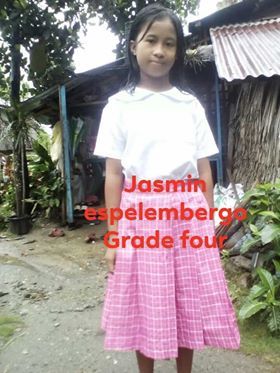 Jasmine Espelembergo
---
Hello! I am Jasmin Espelembergo. I'm already in grade 4. I have 5 siblings and my parents are separated. Nobody takes care of us that's why we live in the street. My Auntie learned about our living situation in Romblon, so she brought me and my sister here in Roxas. She and her husband has 10 kids of their own. So we are already kids in their home.
There are days that we missed meals because my Uncles job is not enough to support all of us and my Auntie is the one taking care of us.
I'm so thankful to MFHM because now I can able to go to school with free lunch and transportation going to school and coming back home plus I get pocket money from my sponsor.