Meet the Children (Last names L-Z)
---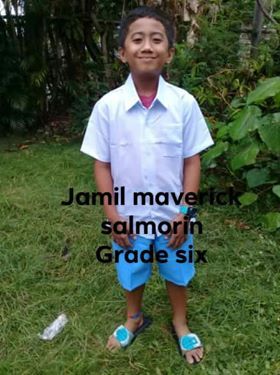 Jamil Maverick Salmorin
DOB: May 17, 2008
---
Even though we are living in hardship, I sacrifice to walk long miles in the middle of the forest where there are no houses just for me to go to school. There are times I get scared, but I know God is watching me. My parents are both jobless and my grandmother has been bedridden for 2 yrs that's why most of the times we missed meals. I just keep holding on God's promises!
Gwen Manangat
---
I am Gwen Manangat. I am in grade 4 now. I'm so grateful for your help to me. I am praying that you won't get tired of helping us. My mother is fighting breast cancer and my father is jobless. Your program is such a big help to the people like us. I always pray that God will continue to bless and protect you from any harm. I will study hard in return of our help for our future and also to help my parents. Thank you again.
Angelica Semeniano
DOB: April 03, 2006 - Grade 5
---
Hi! My name is Angelica. We are 3 kids in the family consists of 2 girls and 1 boy. My father can't do some heavy work cos he is permanently ill and my mother just stay at home. I just walk going to school every day without a uniform and allowance but it's fine with me. What's important for me is to finish my studies. During Sunday, our whole family attend the church service. We always thank God for his goodness cos He always take care of all our needs and look after us. I'm so happy when I learned that we will get some help from people in other country in order for us to continue our studies. God Bless you more!
Mark Semeniano & Norbert Semeniano
DOB: May 29, 1996 - GRADE 10/ TWINS
---
We are 10 siblings in our family but unfortunately our parents left us so we don't know where is our other siblings. We got separated to each other. Only me and my twin are living together with our grandmother, who is already old and weak. We go to school on our own effort by earning money from wrapping bread in the bakery after school. That's where we get some money too to buy our food including our grandmother and also to support ourselves going to school. Though it's not enough, we try to stretch it out to make it last. Me and my twin just walk also back and forth from our home to school. We are so thankful to God cos he always gives us strength and courage to live.
In our church, I am the one who teaches dancing to my other church mate. God blessed me with this talent so I use it in a way where I can help others too.
Valerie Regalado
DOB: Mar. 04, 2000 - Grade 11
---
We are 5 siblings in our family. My father and mother got separated and left us. Me and my other siblings are living on our own. I am the one who stand as a mother and my eldest brother is the one who stand as a father.
We have some food to eat everyday though it's not enough for all of us. We don't go to school anymore but I just kept praying to God to help us. So I was so happy when I learned that Brother Terry is going to help us to go back to school. I am so thankful and blessed for the goodness of GOD!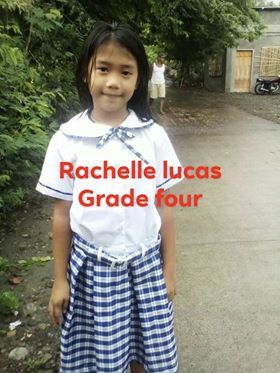 Rachalle Lucas
DOB: Sept. 06, 2009 - Grade 1
---
I am the third in 4 siblings in our family. My father has no permanent job. The only time he have work is when somebody ask him to work for them and my mother is just a housewife. She stays at home and takes care of us. Six of us lives in a very small nipa hut only. Most of the time my playmates will tell me that we belong to a poor family and that makes me feel shy and no confidence in myself.
Both of my parents didn't finish their studies that's why they can't find a job. I wanted to become a teacher someday to teach children to achieve their goals and dreams like me!
Maricel Lucas
DOB: Jan. 01, 2003 - Grade 8
---
My father doesn't have a permanent job and if ever somebody call him to work it's just twice a wk only. I go to school with no uniform and don't have school supplies that I needed. Most of the time I don't have lunch to take with me to school and if ever there is, it's just rice with sprinkled salt on it. My flip flop is already worn out before the end of the year because I used it every day walking going to school.
I am the song leader in our church. It's just far from where we live. I was one of those kids that Brother Terry visited here in our village before and I am thankful that my prayers have been answered that somebody will help us in our studies through Bro. Terry.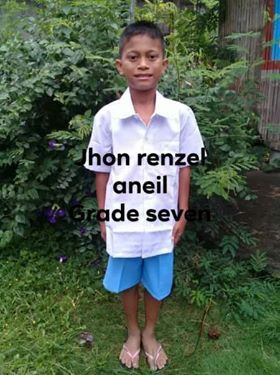 Daniel John Renzell
DOB: Jan. 29, 2008
---
I am John Renzell Aneil and I am in grade 6 now. I'm glad to be part of the MFHM program. We live in my grandparents' house on my father's side. I am the eldest in two children in the family. We are so thankful for the food and the transportation service going to school and back home every day.