Meet the Galicia Children
---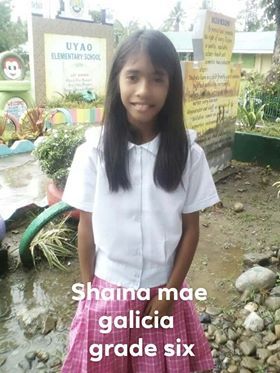 Shaina Mae Galicia
DOB: March 18, 2008 - Grade 2
---
I thank God for giving me strength every day to go to school. Poverty is not a hindrance to me. Most of the time I go to school without any food to eat on lunch. I am so thankful that I have one classmate that most of the time she adds some more rice for her lunch so I can able to eat too even the partner of rice is just salt. The stuff that I have is mostly from people who gave it to me because they don't want it anymore cos it's already old. By the way my mother works in Manila as a housemaid that's why me and my other siblings live together.
I was third honor last year. God is so good. He is always on time in all of my needs. Whatever I don't have in school like ball pen and paper during our exam, my classmates would offer some help to me so I praise and thank God when I learned about the help that we will be receiving some help from people that has a heart for the poor like us.
Nicole Galicia
DOB: Nov. 27, 2005 - Grade 4
---
Our father doesn't have a permanent job and our mother is working in Manila as a housemaid. Most of the time we go to school three times in a week only and sometimes only half day. We walk 1 hr going to school back and forth. In our school mostly, me and my other siblings are the one who don't have food to eat at lunch so we just ask our classmate's left over food if there is any and if there is none we will just go home for lunch then don't go back to school in the afternoon anymore that's why sometimes we attend school half day only. We don't have uniform too and the flip flop that we use are from the garbage where people throw them if they are already old and thin. We don't have paper and ball pen also. We just borrowed our classmate's ball pen when they are already done then return it to them after we finish writing. Sometimes I ask God why there are rich and poor? Why are we not equal? But I don't ask God about that anymore cos He already answered our prayers by sending somebody to help us here.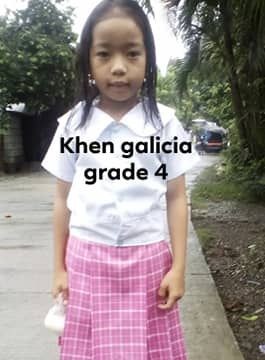 Jero S. Galicia
DOB: Aug. 03, 2007 -Grade 3
---
I am a nine-year-old boy and grade 3 level already. I just wanted to thank all those who decided to help us support our studies since our parents is not capable to do it for us. When I grow up I wanted to become a soldier so I can defend my country and family too. May God bless you more!
Angel M. Galicia
DOB: May 26, 2007 - Grade 3
---
Thank you for the opportunity that you have given us to continue our studies. I am the youngest among the 6 kids in our family.
When I grow up, I wanted to become a policewoman and have a stable job to support my family.
Mark Riven Galicia
DOB: Oct.20, 2010 - Grade 4
---
We are 8 kids in our family, consists of 3 boys and 5 girls. Because we are big family, most of the time we only eat Lugaw/rice porridge (rice cooked in a lot of water) cos if we cook it as rice it won't be enough for all of us and we don't have Ulam (dish to partner with it like pork, chicken, beef or fish). Our father's salary is not even enough for our food and other needs that's why we just walk going to school even we are hungry most of the time. We are hoping one day we will overcome from this situation.
In God's grace and mercy, Jesus is our strength and guidance in these trials. We are so happy to receive blessings from people in other country.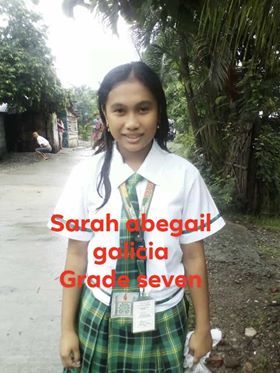 Sarah Abegail Galicia
DOB: Nov. 1, 2005 - Grade 4
---
We are 4 siblings in our family consists of 1 boy and 3 girls but our only brother already passed away. We didn't have the money to bring him to the doctor and can't afford to buy all the medications so we just let him go. My younger sister has a cleft palate but she is already fine now after she had surgery through the good heart of German missionaries, while my father is blind.
I thought I can't able to study again but God is soo good and faithful! He touched some people's heart to help us. Thank you!
Rose Jane Galicia
DOB: Oct. 22, 2004 -Grade 6
---
I was left to my grandmother where I am living right now but I know I have other siblings. My parents separated. I don't know where my mother is and the last time I saw my father was when I was 5 yrs old.
I walk everyday going to school wearing an old flip flop that given to me by my classmate. My bag was given to me by my cousin which she doesn't want anymore. My grandmother can't able to buy my needs cos we don't even have enough money to buy our food and I understand our situation. So I was thankful that now I finally have a new school supplies, bag and I don't need to walk anymore cos some good hearted people helped us here. Thank you to all!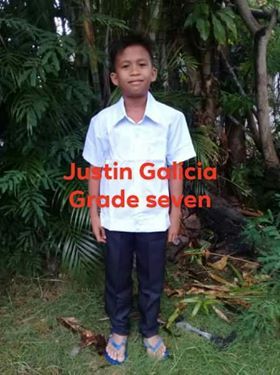 Justin Galicia
DOB: April 24, 2005 - Grade 3
---
We are 9 siblings in our family. I just walk going to school cos my mother can't afford to pay a tricycle. My father doesn't have a permanent job. Since we are a big family, sometimes I skip going to school because I don't have food to take with me to school. My parents still have to find some rice to cook. I walk every day going to school without wearing a uniform and most of the time just flip flop. Since I started attending church, I learned to trust God that He will provide all our needs and hear our prayers. I am so thankful to learn that some good hearted people wanted to help us. Thank you!
Danica Galicia
DOB: Oct. 05, 2004 - Grade 6
---
We are 5 siblings and I'm the eldest. My father doesn't have a permanent job and my mother works as a housemaid in Manila. When my father gets an extra job, I don't go to school cos I have to take care of my younger sibling. Me and my other siblings just walk going to school every day without allowance and uniform. When it comes to tuition fee, we ask favor to our teacher that we are going to pay it once my father have already enough money. So I was so happy when I learned that I am included in one of the kids that will get free bags, school supplies and every day allowance going to school and that we don't have to walk long miles anymore because there is already a tricycle that will take us to our school.
Abegail Galicia
DOB: Nov.17, 1999 - Grade 11
---
My siblings and I are going thru some hardship. It's confidential so I won't elaborate it here anymore. We thought we won't able to be united with our father anymore but God is so good! My father is finally free! I thought I won't able to continue my studies anymore but I never lose hope and faith that God will always make a way to fulfill his promises. Now I am back to school again and I'm really so happy for all those people who helped us.